Based on data as at 5 April 2019
Background
We believe that building the diverse and inclusive organisation we want James Hay to be starts with an honest and clear appraisal of where we are currently. To that end, we are not satisfied that James Hay has enough women in senior positions. Reasons for this are many and often complex, but they are distinctly separate from equal pay issues.
Gender pay gap reporting is a UK-specific requirement, intended to reflect (and ultimately, where possible, allow for correction of) the difference between average male pay and average female pay within a given organisation. Such differences are largely the result of differences in seniority between male and female employees. All applicable employees are compared, with no account taken in respect of the differences in role performed, individual experience or particular expertise, or indeed any other pertinent factors, which may legitimately affect the way in which different employees are paid. 
We believe in paying employees fairly, relative to role, skills, and experience, as well as performance. We endeavour to ensure there is no unfair gender, or other, bias in how colleagues are paid. We remain confident that men and women throughout our organisation are paid equally for doing the same job, with regards to their specific role, seniority, responsibilities, accountabilities, skills and experience, and other factors which properly and justly effect pay. 
Our Approach
Whilst we observe some change, the average man at James Hay is still more senior than the average woman at James Hay. This continues to drive the persisting gender pay gap at James Hay. 
 
Female
Levels
Male
Full-time
10
11
0-2
27
27
Part-time
1
0
Full-time
57
85
3-4
133
130
Part-time
28
3
Full-time
183
260
5-7
116
112
Part-time
77
4
 
 
356
Total
276
 
We recognise this is not a problem unique to James Hay. Within financial services, and indeed the country, there is a tendency towards a greater number of men in senior positions, and so a 'gap' exists, especially in respect of the top tiers. Indeed, certain functions (such as IT and Sales) tend to be both male-dominated and more highly paid versus other functions within the business.   
It is true that a national focus remains on this issue. The government is focusing on initiatives in education and training, as research shows that women continue to choose lower paid professions and training routes, and often persistently follow gender stereotypes due to lingering perception. 
Other firms within financial services report not dissimilar pay gaps driven by similar, low levels of senior female representation. We cannot hire enough women at senior levels to address the balance due to the lack of industry attraction of women over preceding years. The location of our 'head office' being semi-rural and outside of London may also play a small part at the mid-senior level. 
We must then focus on our internal pipeline, which means developing women of all levels wherever we reasonably can. Given the balance in the early quartiles, of women to men, if we can continue progressing women through the company structure this 'feed' should ultimately become self-sustaining.  
It is recognised that it is not a 'quick-fix' situation to the gender pay gap. Our results will change gradually and only significantly when we see equally significant changes in the shape, and distribution, of our employee population. 
The measures we're investigating and pursuing include putting career progression in place for employees, and leadership cohort development training, on a structured and meritocratic basis. Culture within James Hay is also being addressed and improved, and this work-stream is envisaged to yield positive results given time. 
In terms of recruitment activity, we work with highly-skilled, outsourced resourcing partners and include, wherever possible, women on our selection shortlists, identifying the 'right' talent for any position. Furthermore, interviews held for the same role follow the same approach, with the same competencies and values being explored. 
We have also recently undertaken a piece of work to benchmark our salaries and to 'level' roles. This provides a solid framework to build upon and allows for a degree of transparency and therefore negotiation in respect of salaries. Flexible working continues to receive positive focus, due consideration and accessibility within the organisation, with every request investigated fully and fairly. 
Thus we have an understanding of the options available to us to aid in increasing the seniority of women overall in our organisation. 
Data and Analysis
The statutory calculations required are designed to illustrate the difference between the average earnings of men and women at James Hay.
The table below shows our overall mean and median gender pay gap based on hourly rates of pay as at the snapshot date of 5 April 2019. It also captures the mean and median difference between bonuses paid to men and women at James Hay in the year up to April 2019 (i.e. for the 2018 performance year).
In order to understand the data below, the following are 'for example', or in explanation:
The hourly fixed pay gaps (mean and median) are based around discrete averages of the population. In either case, the point follows that if a 'gap' of 25% exists, then, if an average male salary (at 1 FTE) equates to £20,000 pa, then the corresponding average female salary (at 1 FTE) would be £15,000 pa. 
If the bonus gap is 10%, then in either case, an average male bonus of £1,000 would translate to an average female bonus of £900. 
The proportion of employees awarded a bonus in the given year is a % of that population. For instance, if 100 men (or women, respectively) are employed, then a figure of 45% denotes that 45 men (or women, respectively) have received a bonus, irrespective of value. 
The figures for pay quartiles are prepared by ordering the population, by ordinary pay, from lowest to highest, then dividing it into four equal sub-populations (per table below : lower quartile – A; lower middle quartile – B; upper middle quartile – C; and upper quartile – D), to show how the distribution of males and females varies according to each quartile.     
Our Gender Pay Gap
| | | |
| --- | --- | --- |
|   | Mean* | Median** |
| Hourly fixed pay | 35.3% | 24.4% |
| Bonus paid | 86.6% | 50% |
*The mean is the average where all numbers are added together and divided by total number of numbers.
**The median is the middle value in the list of data.
Please note, the median is more representative than the mean of typical pay differences because it is less affected by a handful of considerably higher (or lower) salaries.
Bonus Gap
Proportion of employees in James Hay awarded a bonus for 2018
| | |
| --- | --- |
| % of men in James Hay | 67.4% received a bonus |
| % of women in James Hay | 72.2% received a bonus |
Pay Quartiles
The table below illustrates the gender distribution at James Hay when the total workforce is split into four quartiles from the lowest to highest paid.
Band

Male %

Female %

Description

A

32.5

67.5

Employees whose hourly rate of pay places them 
in the lowest quartile

B

33.8

66.2

Employees whose hourly rate of pay 
places them above the lowest quartile but at
or below the median

C

43

57

Employees whose standard hourly rate
of pay places them above the median but 
below the highest quartile

D

28.5

71.5

Employees whose hourly rate of pay 
places them in the highest quartile
These numbers, as noted, are not wholly mis-aligned with regards the wider financial services 'picture', nationally. Mean and median hourly pay statistics have seen small increases, only, from the previous report. The bonus figures as reported contain a greater mix of results, with some positive trajectories coming to light as a result of efforts and initiatives taken thus far.     
In order to continue analysis and monitoring of our gender pay gap here at James Hay we are committed to publishing the next report (snapshot date – 5 April 2020) by Q4 2020. We remain committed to maintaining vigilance and investigating and introducing measures to close the gap. Our progress in this area is updated and discussed openly via our internal communication channels and Employee Forum. 
I confirm that the data reported is accurate.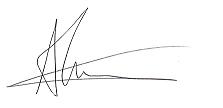 Alastair Conway CEO, James Hay Partnership
Signature Date: 31 March 2020