The process of putting additional money (contributing) in to your pension is straight forward but there are things you need to consider before proceeding. The following is a high level introduction based on our understanding of the current tax rules.
Depending on your personal circumstances it can become more complex and to assist you, detailed information can be found on www.gov.uk website. You should check regularly as the tax rules on pension contributions can change.
If you remain unclear how this could impact you or have questions, we recommend that you talk to a regulated financial adviser. If you do not have a financial adviser, you can find a regulated adviser close to you at www.unbiased.co.uk.
How much can I contribute to my SIPP?
If you are a resident in the UK and under the age of 75, you can contribute up to 100% of your relevant UK earnings in the tax year and receive tax relief on the contributions.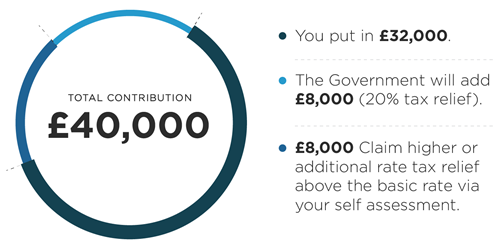 You however need to be aware of the rules of the annual allowance, which is currently set at £40,000 gross. The annual allowance is the total amount you can put into UK registered pensions and receive tax relief in each tax year. Exceeding it will incur tax charges that cancel out the tax relief. The annual allowance is reduced if you earn income over £150,000 in the year.
---
Example 1
If you want to add £40,000 to your SIPP, you can personally contribute £32,000 and the taxman will add basic-rate tax relief at 20% of £8,000.
Example 2
If you earned £60,000, you can contribute £60,000 to the SIPP but you would still only receive £8,000 in tax relief due to the cap imposed by the annual allowance.
---
If you have started taking money from a pension using a flexi-access drawdownA pension income drawdown arrangement where there are no limits on how much can be taken out of a pension fund or when. All income drawdown arrangements set up from 6 April 2015 onwards are offered on a flexi-access basis. Once a pension fund is moved into flexi-access drawdown, an investor can only make new pension contributions (including tax relief) of up to £4,000 a year. See also Capped drawdown. arrangement, you will also be subject to the money purchase annual allowance which means that the maximum you can pay in to any defined contribution (also called money purchase) scheme without incurring a tax charge is £4,000 gross. See the www.gov.uk website for more detail.
What is the lifetime allowance?
The lifetime allowance is a limit on the amount of pension savings that you can use to provide benefits (pension commencement lump sum and income) without incurring tax charges. You can find out more about the lifetime allowance at GOV.UK.
The lifetime allowance was introduced in 2006 and is currently £1,030,000. For total pension savings that exceeded the lifetime allowance when it was introduced and subsequently as the amount has decreased, it has been possible to apply for 'protection' to protect the value of total pension savings above the lifetime allowance from the tax charges. This gives protected individuals a "personal lifetime allowance", which will be higher than the "standard lifetime allowance" set by the HMRC.
The protections available include primary protection, enhanced protection, fixed protection and individual protection. You would have had to apply to HMRC for protection and should have received a certificate confirming this but if you are not sure, contact your financial adviser, or HMRC.
Can I contribute to my SIPP and other pensions?
Yes you can contribute to more than one pension but the total amount you put into your pension(s) is subject to the annual allowance, including any contributions made on your behalf by an employer or third party. If you have a defined benefit policy such as a final salary scheme, any increase in the amount your pension provider promises to give you when you retire counts towards the annual allowance.
Exceeding the annual allowance can result in personal tax penalties.
Can I carry over my annual allowance?
Yes, provided you make the maximum allowable contribution in the current tax year (£40,000 in 2018-19*), you can then use unused annual allowances from up to the three previous tax years, provided you do not contribute more than your total taxable earnings in the tax year.
---
Example
If you contributed £30,000 in the 2017/18 tax year and in the 2018/19 tax year and your total taxable earnings are £100,000, then it is possible to contribute up to £50,000 in the 2018/19 tax year without breaching the annual allowance rules.
This is made up of your £40,000 annual allowance for 2018/19 and the £10,000 unused annual allowance from 2017/18.
---
You can check if you have any unused allowances on the GOV.UK website using their pension annual allowance calculator.
Please note: By clicking this button you will leave the James Hay website and be taken to the GOV.UK website.
*The Money Purchase Annual Allowance (MPAA) lower limit of £4,000 may apply if you have already started drawing a pension. It is not possible to carry forward unused MPAA into future tax years.
When will I receive the tax relief?
For contributions that are entitled to tax relief, we make a monthly submission to HMRC for the tax relief on all contributions made in the previous month. It normally takes between 7 and 11 weeks for the tax relief to be paid into your SIPP.
What is the tax treatment if I am a higher rate tax payer?
Higher rate tax payers can reclaim any additional tax above the basic rate through their tax return.
Can I contribute to my SIPP if I do not have any income?
If you do not have an income, or earn under £3,600 and you are UK resident, you can contribute up to £3,600 gross. In this scenario, you can add £2,880 and receive tax relief of £720.
Are there any age restriction on contributing to a SIPP?
You can contribute at any age, although all contributions to a SIPP held with us must cease by your 75th birthday.
Can my employer contribute to my SIPP?
Yes, your employer can contribute on your behalf but it is worth noting that employer contributions are made from your gross salary and so your pension will not receive tax relief.
How can I contribute to my SIPP?
You can send a payment directly to your SIPP bank account from your bank. The bank details for the SIPP bank account can be found in James Hay Online in Portfolio > Trustee Cash screen, or you can contact us and request them.
You can send us a cheque with a covering letter, or an accompanying secure message through James Hay Online so we are able to match the cheque to your wishes. Please be aware that cheques will be subject to the normal banking time scales.