What would you like to do?
Explore how I can invest for retirement
Our Modular iPlan brings pensions, ISAs and other investments together in one place.
Find out more
See what I could get in retirement
Get a personalised illustration to see what you could get by investing with James Hay.


Find out more
How can I take money out of my pension
If you are 55 or over, you can start accessing your pensions now – and we're here to help.


Find out more
Register for an online account
Set up your James Hay Online Account now – and get ready to invest.


Find out more
---
Retirement income at your control
At retirement, or even before, you may want to start taking a regular income and/or lump sums from your pensions and other investments. If so, the Modular iPlan has been designed to help.
By holding your self-invested personal pension (SIPP), individual savings account (ISA) and a general investment account (GIA) all in one place, the Modular iPlan offers an easy way for you or your financial adviser to co-ordinate income and lump sum payments from these different sources – and to do it in the most tax-efficient way possible.
Planning your income with the Modular iPlan
The following is based on the current tax treatment of SIPPs, ISAs and GIAs, which could change in the future. The tax benefits of these products will depend on your individual circumstances. These examples are meant as illustrations only and do not constitute guidance or advice.
Modular iSIPP – Under Flexi-Access drawdown, the SIPP allows you from age 55 to take 25% of your pot as a tax-free lump sum (or series of lump sums), while the remainder can be drawn as taxable income. While you are still working, it may potentially be more tax-efficient to draw down the tax-free lump sum element. Then start taking taxable income when you move to a lower tax status when you wind down or stop working.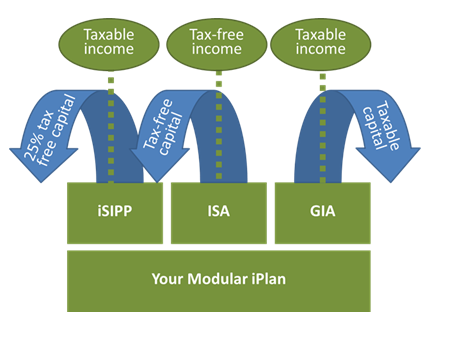 Modular ISA – All withdrawals from an individual savings account (ISA) are free of income tax and capital gains tax, and don't contribute towards calculating your income tax rate.
Modular GIA – Withdrawing money from the general investment account is not subject to income tax but any investments you sell in order to withdraw money, will count towards capital gains tax (CGT) and you can plan selling assets around your annual CGT allowance.
Getting tax advice
Tax planning can be complex and will depend on your personal circumstances. To determine the most tax-efficient way to take money out of your Modular iPlan, we strongly encourage you to seek advice from a regulated financial adviser or tax specialist.
Tracking what you take out
The Modular iPlan online reporting makes it easy to track what you've taken out of your plan and what you've got left. For example for the Modular iSIPP, you can see:
Income taken out to date and income left to pay out
How much has been paid out as tax-free lump sums and what's still available
Maximum income allowed (if using capped drawdown)
How much of your lifetime allowance has been used
Latest value of the total fund.
You can adjust the level of regular income taken at any time – specifying either a fixed monetary amount or a percentage. Both the ISA and GIA also allow regular withdrawals to be requested so you can receive a more predictable retirement income. Please note that income from the Modular iPlan is not guaranteed and can be affected by the performance of your underlying investments.
Retirement planning freedom
By giving you freedom to take income and lump sums as required (subject to current pension and tax rules), the Modular iPlan lets you plan around your expenditure needs. In this way, you can ensure your retirement fund is being managed effectively – while always being able to check the value of what's left.
Getting advice and guidance
The choices you make for your pension fund and other investments can determine the level of income you receive for the rest of your life. For this reason, we strong encourage you to seek professional financial advice and guidance to decide the best course of action to take.
James Hay cannot provide advice. If you would like to speak to a financial adviser but do not have one, please visit www.unbiased.co.uk to find a regulated adviser in your area.
If you are planning to take money out of your pension in the near future, you are also entitled to free, impartial guidance from Pension Wise. You can receive Pension Wise guidance online, over the phone or face to face. Visit www.pensionwise.gov.uk or call either 0800 138 3944 or 0300 330 1003 (from outside the UK +44 20 3733 3495), if you wish to use this service.