What would you like to do?
Explore how I can invest for retirement
Our Modular iPlan brings pensions, ISAs and other investments together in one place.
Find out more
See what I could get in retirement
Get a personalised illustration to see what you could get by investing with James Hay.


Find out more
How can I take money out of my pension
If you are 55 or over, you can start accessing your pensions now – and we're here to help.


Find out more
Register for an online account
Set up your James Hay Online Account now – and get ready to invest.


Find out more
---
Keeping your pension funds safe
One of the negative consequences of the pension freedoms has been a sharp rise in fraudulent schemes seeking to part investors from their pension funds. Many of these fraudsters can be convincing and persistent. The danger is that by signing a few forms without thinking, individuals can see a lifetime of pension savings disappear.
You can help to keep yourself safe by being alert to the following tell-tale signs:
COLD CALLING: Unsolicited phone calls, emails, texts or even doorstep visits from companies offering a free pension review, a once-in-a-lifetime investment scheme or a legal pension loophole. Watch out for companies that persist even when you have declined the offer.
UNREALISTIC RETURNS: Marketing materials offering an investment return that's much higher than anything else on the market with no warnings of the risks involved. If an offer seems to be too good to be true, it usually is.
PROMISES OF EARLY ACCESS: Any firm offering penalty-free access to your pension fund before age 55, for example by offering you an upfront loan.
PRESSURISED SELLING: Firms sending paperwork by courier to your door that requires signing immediately or offering a time-limited investment opportunity that demands immediate transfer of funds. Reputable companies will NEVER pressurise you in this way.
OVERSEAS TRANSFERS: Schemes that require you to transfer money overseas – taking it outside of UK regulation and making it impossible to recover at a later date.
NO AUTHORISATION: Firms not regulated by the FCA, or whose FCA membership number cannot be verified.
NO CONTACT DETAILS: Firms that do not provide an address or landline telephone number
See our factsheet including 'Nine Steps to Scam-Proofing Yourself'.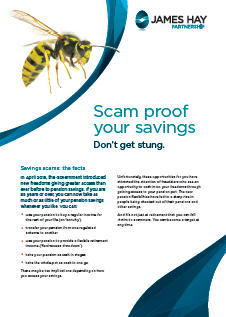 Getting advice and guidance
The choices you make for your pension fund can determine the level of income you receive for the rest of your life. For this reason, investors are encouraged to seek professional financial advice and guidance to decide the best course of action to take.
James Hay cannot provide advice. If you would like to speak to a regulated financial adviser but do not have one, please visit www.unbiased.co.uk to find a regulated adviser in your area.
If you are planning to take money out of your pension in the near future, you are also entitled to free, impartial guidance from Pension Wise. You can receive Pension Wise guidance online, over the phone or face to face. Visit www.pensionwise.gov.uk or call either 0800 138 3944 or 0300 330 1003 (from outside the UK +44 20 3733 3495), if you wish to use this service.